New Multi-Year Strategic Plan - Have your say!
The Durham District School Board (DDSB) has a Multi-Year Strategic Plan that is approaching its end in December 2023. We are excited to invite you to participate in the new strategic planning process.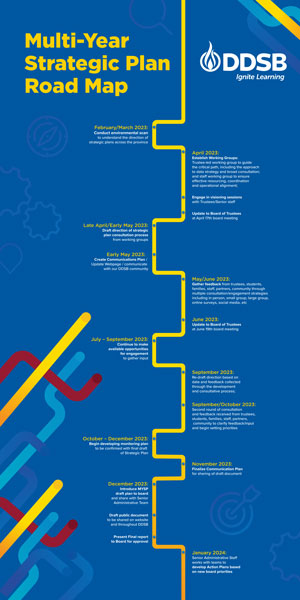 A Multi-Year Strategic Plan sets direction for the work of a school board by identifying values, priorities, and measures for success. It acts as a compass that guides collective actions for ongoing student-centered improvement across the learning organization.
All members of the DDSB community are invited to participate in the consultation process. Hearing the aspirations, priorities, and feedback of students, parents, guardians, caregivers, staff, trustees, partners, leadership associations, advisory and community groups, and others is the most significant contribution in guiding the development of the new Multi-Year Strategic Plan.
The DDSB affirms its commitment to upholding and promoting the rights of all students, families, staff, and community members.
We encourage you to participate and provide feedback through the following opportunities: