The Durham District School Board's priority is the safety and well-being of our students and staff, particularly as we prepare for the return to school in September. We know that the first day of school will be filled with some excitement and that there may also be some anxiety due to the COVID-19 pandemic and the length of time since students have been in school.
We want the return to school to be safe and successful for everyone. We have involved the Durham Region Health Department as part of our planning, while also following the directions of the Ministry of Education to ensure that our schools and workplaces are safe.
We will be focusing on everyday mental health and well-being strategies to support educators and students return to school by encouraging belonging, building trust and creating optimal conditions for learning and development.
This webpage will outline important information for students, parents and guardians about what a school day will look like, our new health and safety protocols, well-being resources and more.
Ongoing contact with families will take place throughout the school year to provide further details about specific school level information and board wide updates.

The Ministry of Education released their direction to school boards on Thursday July 30 about what the school day will look like. We will be reviewing memos from the Ministry and will be providing more information for families on specific details once we receive confirmation from the Ministry. Our most updated information is posted below.
Elementary Schools
Elementary students will attend school five days per week, with students grouped together in a cohort for the full day, including recess and lunch. Students will still receive 300 minutes of face-to-face educator instruction. Enhanced health and safety protocols will be in place (i.e. enhanced cleaning, handwashing breaks, students eating lunch in their classroom, etc.) and the full range of the elementary curriculum will be provided. The school day will be very similar to what families and students are used to, with the exception of potential changes around bell times and staggered times for entry, exit and recess. While class sizes will remain the same, we will make every effort within available resources to ease any potential pressures on class sizes in order to create physical distancing of students where possible. Students in grades JK to 3 will be encouraged to wear masks and students in grades 4 to 8 will be required to wear a mask.
Specific details about bell times will be provided once we have more information about school busing.
Sample Timetable for Elementary Schools
** Please note that some schools may have 40-minute periods.
Secondary Schools
Secondary schools in Durham will open with a hybrid model that combines in-person and remote learning. Students will be placed in cohorts of approximately 15 students, will attend every other day and on alternate Fridays. This will be delivered in a "quadmester" format which involves a four-semester school year for each quadmester. This limits the number of contacts students have in a day and provides the opportunity to earn two credits at a time. Each quadmester is approximately 45 days of instruction (9.5 weeks). Students will be required to wear masks while in school and the same enhanced health and safety protocols will be implemented. Each day, students will have the opportunity to attend a Study Hall staffed by a teacher to provide additional assistance with independent work.
The DDSB will be reviewing programming for students with a high level of special education needs who may require daily attendance and instruction at the secondary level.
Specific details about bell times will be provided once we have more information about school busing.
Draft Sample Schedule for Secondary Schools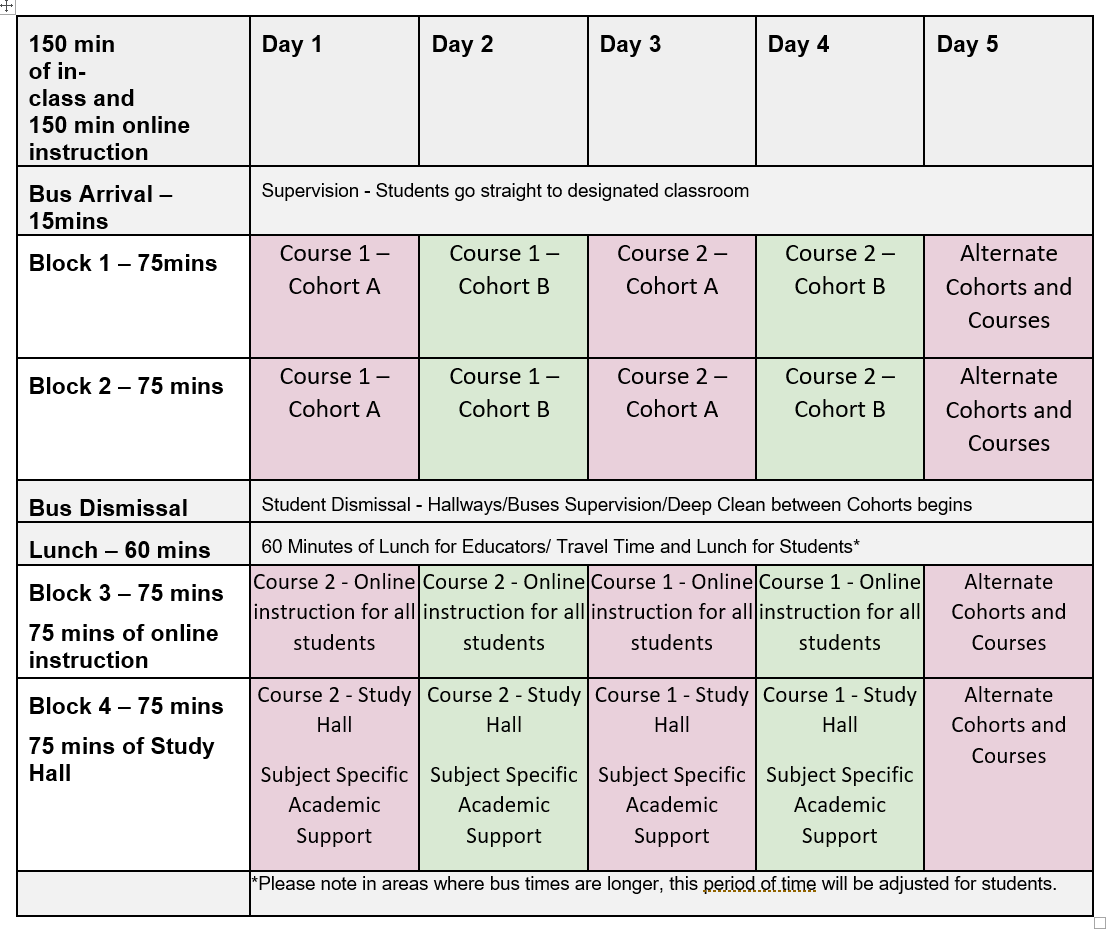 Remote Learning
Students will be able to learn in-person at a school site or remotely from home in a Virtual School. Here is some information on what remote learning from home will look like.
The DDSB will be creating a separate "Virtual School" with a Principal and Vice Principals to manage this effort.
The day will be structured much like a regular class with periods.
DDSB educators will be providing instruction.
It is expected that students enrolled in the Virtual School attend class and participate in the same way that they would in an in-person school.
Elementary Remote Learning
Elementary students learning remotely from home with receive programming based on the full Ontario curriculum. Educators will provide students with approximately 300 minutes of daily learning opportunities through RealTime (live as a large or small teacher-led group) learning and some FlexTime (independent) learning where they undertake activities that are provided by the teacher. A daily schedule will be followed that is age-appropriate. Students will be expected to attend daily and progress will be assessed on a regular basis as it would be in-person.
Secondary Remote Learning
Secondary students learning remotely from home will follow a schedule similar to in-person learning, but with students attending a virtual classroom daily. Student instruction will follow the same "quadmester" format as secondary students learning in-person, but without the need for students to be grouped into cohorts. Students will be assessed regularly as they would be in-person with a focus on both demonstrating an understanding of concepts and the collection of student work.
Each day, students will have the opportunity to attend a Study Hall staffed by a teacher to provide additional assistance with independent work.
Draft Sample Schedule for Secondary Remote Learning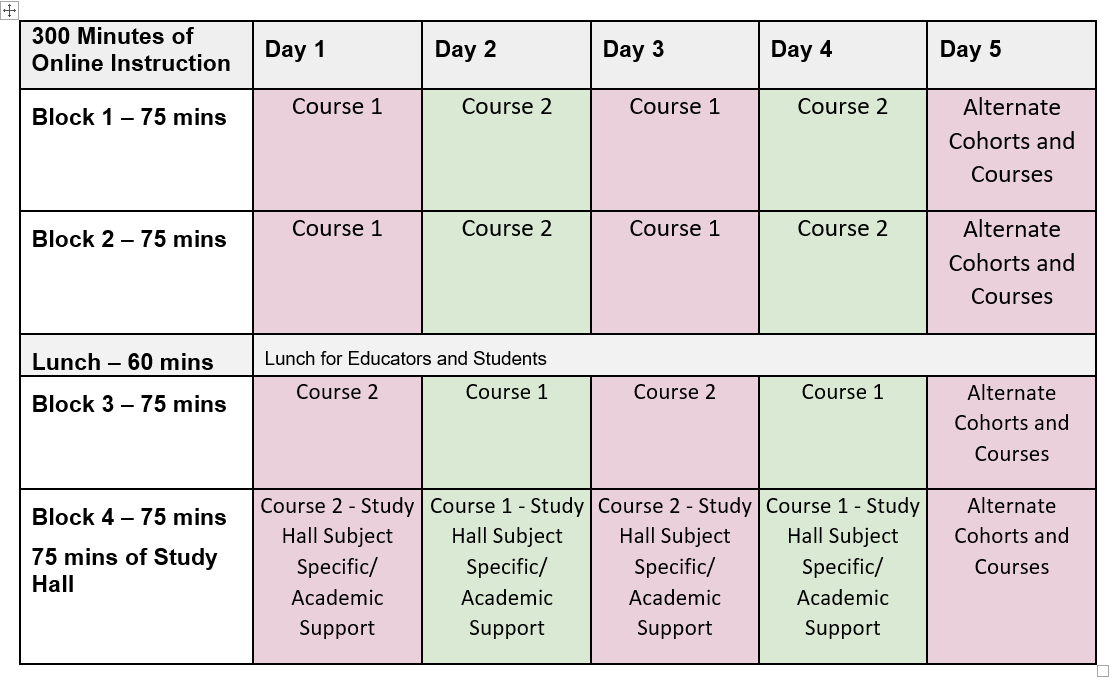 Opting Out of In-Person Learning
The Durham District School Board is in the process of gathering key information from families to ensure the successful return to school for all students on September 8th. In order to determine staffing for remote learning, families need to decide if their child(ren) will be learning remotely (online) from home in a Virtual School or if they will return to in-person learning at a physical school site.
Families received a standalone e-mail on July 31 and a reminder e-mail on August 6 with information on how to make this choice before the August 12 deadline to reply. Families will be able to modify their decision if they made an error by clicking the student specific link. There have also been a few cases where families who have multiple child(ren) in DDSB schools only received one link, instead of multiple. For those families, we ask that you first check your "spam/junk mail folder". If you still do not have the link for your other child(ren), please e-mail parentportal@ddsb.ca with specific details (Name, School, Parent Name, OEN Number, etc.) for your child(ren) and our IT Services Department will be able to assist.
We understand that it may not be an easy decision for some families to make and are providing more information for families in the following ways:
We encourage families to review these materials before making their decision.

Staying safe and healthy during the school year is the most important way that we can protect ourselves and each other from COVID-19 when in schools or any public place. All of us have a responsibility to stay safe. The DDSB has developed a Draft Return to School Guide based on the direction of the Government of Ontario and in consultation with the Durham Region Health Department. Here is a summary of some of the steps we will be taking:
Masks
The Ministry has indicated that students in Grades 4 to 12 will be required to wear non-medical or cloth masks indoors in school, including in hallways and during classes.

Students in Kindergarten to Grade 3 will be strongly encouraged by the DDSB to wear masks in indoor spaces.

Medical masks and eye protection (i.e. face shield) will be provided for all teachers and other staff of school boards.

All school-based staff will be required to wear masks, with reasonable exceptions for medical conditions.

School-based staff who are regularly in close contact with students will be provided with all appropriate personal protective equipment (PPE).
Hand Washing
Every class will have a handwashing station or hand sanitizer available to students and teachers.
A schedule to regularly clean hands will be incorporated into daily routines (e.g. upon entering the school, before lunch and recess breaks, after using bathroom, returning from playing outside and after sneezing/coughing.
Students will be educated on proper cough and sneeze etiquette and to avoid touching their eyes, nose and mouth.
Enhanced Cleaning and Disinfection
Enhanced cleaning and disinfection practices by custodial staff have been established and reviewed by the Durham Region Health Department.
Frequently touched surfaces will be cleaned and disinfected at least twice a day throughout the school building.
Schools will undergo extra cleaning and disinfection at the end of each school day.
Soft surfaces that cannot be easily cleaned and disinfected have been removed from classrooms (e.g. plush/absorbent items, upholstered furnishings).
Self-Assessment
Every morning parents/guardians must screen their children before they board the school bus, come to school or childcare. DDSB staff and bus drivers will also be performing a self-screening before coming to work.
It is critical that everyone conducts a self-assessment daily to check if they have any of these symptoms and they must stay home if they do.
Fever (temperature of 37.8°C or greater)
New or worsening cough
Shortness of breath
Sore throat
Difficulty swallowing
Changes to sense of taste or smell
Nausea/vomiting, diarrhea, abdominal pain
Runny nose, or nasal congestion (not caused by seasonal allergies)
For more information visit the Durham Region Health Department website
School Bus Safety
Durham Student Transportation Services is implementing new procedures to ensure the safety of everyone who requires bus transportation. Bell times may be staggered to avoid crowds at the start and end of the school day. Parents and guardians will be notified of any changes to these times. They can also check with their school for more information.
The DDSB is also working with DSTS to ensure the cleaning and disinfection of school buses meets expectations outlined by Public Health.
There will be one student per seat, unless the students are siblings from the same household. (this may change)
Students and school bus drivers are advised to wear masks
Physical Distancing Strategies
The DDSB is developing strategies that will support general physical distancing throughout the school day. Here are a few examples:
Adjustments to Movement Throughout Schools
Students will notice visual cues, such as directional arrows through corridors and stairwells and signs/posters on walls, to guide appropriate distances in lines/queues and at other times.
Drop-off/pick-up
Student entry into the school may be staggered according to their classroom to provide physical distancing and less congestion in hallways and corridors.
At schools with buses, school parking lots and kiss n rides will be closed off with pylons to all non-bus traffic during the arrival and departure of buses.
It is strongly recommended that any non-bused students walk to/from school.
If there is a need to drive students, vehicles should be parked off site in a safe location and the student should be walked to school.
Use of Outdoor Space When Possible
Weather permitting, activities (classes, lunch breaks) may be held outside.
Large gatherings/assemblies
Large gatherings/assemblies will be postponed for the immediate future.
Lunch Breaks
Cafeterias/auditoriums will not be open for use.
It is encouraged that staff and students bring their own lunch from home.
Water fountains will be closed but water bottle refill stations will be available.
To the greatest extent possible, students will eat their lunch in their classroom.



The implementation of our enhanced health and safety protocols will reduce the risk of transmitting the COVID-19 virus. If everyone does their part to stay safe and healthy (both inside schools and in any public setting), the likelihood that someone will contract the COVID-19 virus at school will be low. However, until the virus is eliminated around the world, there is still a risk of contracting the virus. As a result, the Ministry of Education has established COVID-19 outbreak protocols that we are supplementing in the event that someone feels sick and/or contracts the virus.
Contact Tracing
Daily records of attendance of all persons within the school building will be kept up to date and available to Durham Region Health Department to facilitate contact tracing in the event of a confirmed COVID-19 case or outbreak.
To help facilitate contact tracing for COVID-19, classes will be grouped together to the greatest extent possible. This will involve students remaining in contact with only their classmates, teacher, and other educational support staff assigned to the classroom for as much as the school day as possible.
Non-essential visitors to the school will be limited. Wherever possible, telephone meetings with parents/guardians, vendors and outside agencies will be held.
If a Student Feels Sick at School
A detailed protocol has been established if students become ill during the school day.


Students or staff who develop COVID-19 symptoms will immediately be separated from others

Staff and parents will be directed to consult their health provider and should be provided with information about COVID-19 testing locations

Staff and/or students who test positive may not return to school until they are cleared by the Durham Region Public Health Department

Staff and/or students who test negative can return to school once they are symptom-free for 24 hours

DDSB schools will immediately report any suspected or confirmed cases of COVID-19 to the Durham Region Health Department and the Board.

DDSB schools will participate in contact tracing through keeping records of classes, transported students, and visitors to schools.
Students and Staff with Confirmed COVID-19 Cases Protocol
If a COVID-19 positive case is identified in a school, the Durham Region Health Department will provide further instructions on who else in the school may need testing and/or monitoring/isolation at that time.

Staff/children who are being managed by the Durham Region Health Department (e.g. confirmed cases of COVID-19, household contacts of cases, etc.) must follow their instructions on when they can return to school.

Other Resources/Updates
The following is a list of updates and resources provided for our school communities during COVID-19: