Durham District School Board (DDSB) considers well-being and positive mental health fundamental to student achievement. Students and/or their caregivers are encouraged to reach out to someone at school if they are feeling overwhelmed or discouraged. Support and Crisis Lines are also available.
DDSB Well-Being and Mental Health and Well-Being Action Plan
As a District we are committed to creating safe, welcoming, inclusive, and respectful learning and working spaces that promote well-being for all students and staff.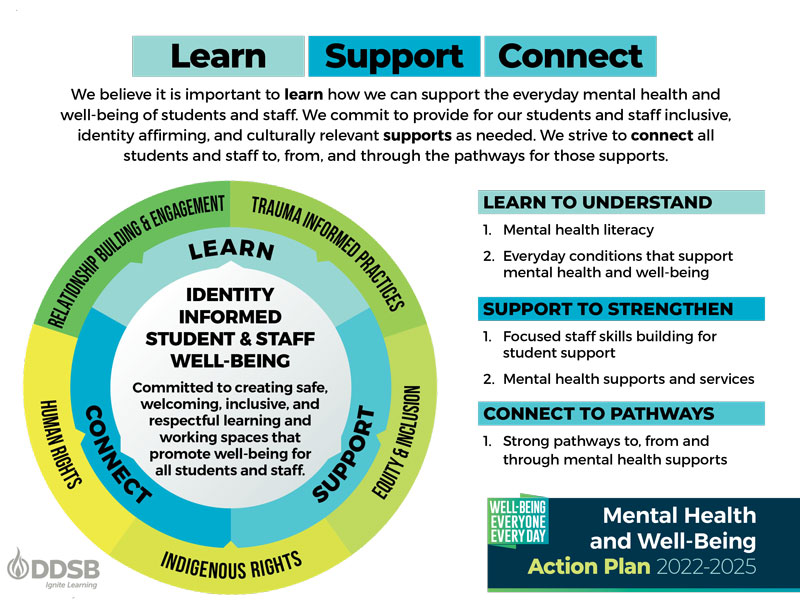 This plan focuses on creating the foundational conditions that support well-being and positive mental health. The actions embedded in this plan include Learn-Support-Connect.
We believe it is important to learn how we can support the everyday mental health and well-being of students and staff.
We commit to provide for our students and staff inclusive, identity affirming, and culturally relevant supports as needed.
We strive to connect all students and staff to, from, and through the pathways for those supports.
This plan was created in an effort to maintain our commitment to fostering well-being for all students and staff. It is a multi-year plan based on feedback from staff, trustees, students, parents and the community.
Get help through the DDSB
Reach out to someone at your school if are struggling with anxiety, depression or any other mental health issue. A guidance counsellor, student success teacher, special education teacher or classroom teacher can help.
We also have a team of professionals available to assist which include social workers, psychologists and psychological associates, along with mental health and addiction nurses and community-based mental health workers.
Connect with our Mental Health Team
Sometimes, things just pile up and you need someone to talk to, right?
We want you to know that we're here to help!
Staff from DDSB Psychological Services and Social Work Services are available to speak with students or their parents/guardians when there is a need to talk things through or to seek more immediate advice about directions for support.

This is not a crisis service.
If the need or risk is imminent, contact 911 or call KidsHelpPhone at 1-800-668-6868.
Access to DDSB Psychological Services and/or Social Work staff will be provided through an online format or by telephone, during regular work hours (Monday-Thursday).
If you are interested in speaking with one of our clinicians, click below to fill out a short form. One of our team members will contact you as soon as possible.

---
Mental health resources
Durham Region offers a variety of crisis help centres and support lines. The following resources are for caregivers and students.
Talking About Mental Illness
Talking About Mental Illness is a community organization that works to end the stigma around mental illness.
Anxiety Canada
Anxiety Canada provides youth and caregivers with resources, information and interactive tools for coping with stress and anxiety.
Children's Mental Health Ontario
Children's Mental Health Ontario provides resources, conferences and information to parents and children about mental health.
AboutKidsHealth
AboutKidsHealth provides information about a variety of mental health concerns including anxiety, depression and eating disorders. They offer warning signs and symptoms as well as resources for treatment and support.
The ABCs of Mental Health
The ABCs of Mental Health provide parents with ways to respond when their children experience stress, anxiety and other mental health issues.
Durham Region Health Department
The Durham Region Health Department provides resources to parents to support health and well-being.
Reaching In – Reaching Out
Reaching In – Reaching Out creates programs that teach adults and children resiliency thinking and coping skills to help deal with mental stress.
Resources for students
If you are a student, you may find these resources helpful:
Mind your Mind
Mind Your Mind provides you with help identifying mental illness and providing resources for support and treatment.
Be Safe App
The Be Safe App allow you to make a safety plan and helps you find appropriate help in a crisis. This application is available for IOS and Android devices.
My Tool Kit
My Tool Kit is an interactive online tool that uses videos, mobile apps and education modules to provide mental health support.
What is mental health?
Mental health is a state of well-being that helps individuals reach their potential. When we have positive mental health, we can cope with the normal stresses of life, work productively and make contributions to our communities.
Mental health problems are emotional, behavioural and brain-related problems that interfere with development, relationships and functioning. It's sometimes hard to recognize mental health problems. They can look like other difficulties, for example: aggression, avoidance or withdrawal.
Mental Health exists on a continuum. People can fluctuate between wellness and illness at different times in their life. When we recognize signs of mental health problems early and provide the right supports quickly, we can improve the outcomes for children and youth.
Early recognition of mental health problems and connection with helpful resources is important. If you are concerned about your child's mental health or if you are a student who is concerned about your own mental health, you can talk to someone at your school. Supportive school-based strategies, referrals to our Board mental health professionals and information about community mental health providers can be offered through our schools. Promotion of positive mental health and development of social and emotional learning strategies is an ongoing focus for the DDSB.
Building resiliency
Resiliency is the ability to handle life's ups and downs in positive ways, and the ability to deal with disappointments and bounce back from challenges. You can develop skills for resiliency when you are successfully engaged in school activities, have opportunities to develop positive relationship skills, and strengthen your confidence in problem solving. Adults, including parents and teachers, play an important role in helping a student engage in the school environment and access resources needed for success and wellbeing.
The Durham Region Health department provides resources to help kids and teens develop resiliency.